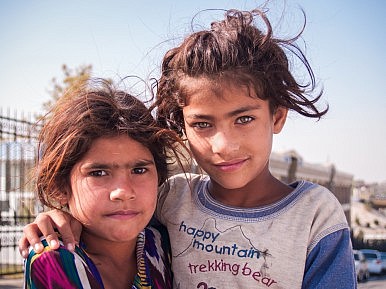 Published on June 09, 2016 in The Diplomat Magazine
Afghanistan is a facing a complex humanitarian crisis, stemming from the many challenges that have confronted Afghanistan over the past four decades.
The saga of Afghanistan as a vulnerable nation began in the late 1970s. Although Afghans were a destitute people at the time and thus somewhat reliant on foreign aid, they were a resilient nation. Displacement for protection or food security was rare. Afghans rarely abandoned their villages of origin where they were leading a peaceful, agrarian way of life. Afghanistan was self-sufficient agriculturally, and the country used to export a variety of fresh and dried horticultural products to its neighborhood and beyond.
This was a time, much like today, when the then Afghan government was pursuing a "win-win" foreign policy, promoting regional economic cooperation to ensure prosperity across its still poor and under-developed region: South and Central Asia. Afghans understood then that in order for poverty to be reduced to provide mitigation against unexpected natural disasters such as floods, avalanches, droughts, and earthquakes, they needed to continually grow their economy, while fostering and maintaining good relations with their neighborhood for support during times of hardship.
Through this rational, constructive approach, humanitarian crises resulting from natural disasters were largely averted. However, this approach ceased to work when the former Soviet forces invaded and occupied Afghanistan for a decade. Years of war and violence weakened the resilience and coping mechanisms of the Afghan people, as most of them were forced into multiple waves of displacement in and out of Afghanistan.
The Legacy of the 1990s
Today's protracted, complex humanitarian crisis in Afghanistan dates back to the 1990s, when the country's state institutions completely collapsed and the once resilient nation turned into a handful of extremely vulnerable groups. The oppressive foreign-installed regime of the Taliban victimized innocent Afghans on a daily basis, denying them, especially women and girls, access to their basic human rights, including education and healthcare.
A day before the tragedy of 9/11, Afghanistan had sadly turned into a no man's land. Save for the presence of the International Committee of the Red Cross (ICRC)—to which Afghans remain thankful—and a few other humanitarian organizations in the country, Afghanistan had been completely forgotten and isolated from the rest of the international community.
Human suffering was deplorable, as oppression, poverty, violence, ethnic-cleansing, displacement, and other unspeakable atrocities against Afghans were rampant across the country. And it was the international community's negligence toward this tragic humanitarian situation in Afghanistan that allowed al-Qaeda and the Taliban to mastermind the tragedy of 9/11 from Afghan soil.
Post 9/11
However, thanks to international re-engagement in Afghanistan in the wake of the 9/11 tragedy, the precarious humanitarian situation began improving fast. Since the fall of the Taliban, Afghanistan's formerly dismal socio-economic indicators have significantly improved. Access to education, higher education, healthcare, and electricity has multiplied, while improved infrastructure throughout urban and rural Afghanistan has enabled the Afghan government to respond much more effectively to man-made and natural disasters.
Indeed, these achievements, which remain works in progress, would have been impossible without the continued security, development, and humanitarian assistance provided by the international community. Unfortunately, however, a terror campaign, which is maintained and resourced outside of Afghanistan, has deliberately been trying to disrupt and undo Afghans' hard-earned gains of the past 15 years.
Although the Taliban and their foreign backers have failed to realize their dream, they have been able to create the current humanitarian situation, where more than 8 million Afghans acutely need humanitarian assistance. Of this, more than 1.5 million Afghans are unable to access health services due to imposed conflicts, while 1 million children need treatment for acute malnutrition.
Current Needs
A further breakdown of Afghanistan's humanitarian needs by the United Nations Office for Coordination of Humanitarian Affairs (UNOCHA) shows that 0.7 million Afghans need emergency shelter and related support; 1.7 million lack food security; 3.1 million health; 2.9 million nutrition; 1.7 million protection; and 1.5 million water, sanitation, and hygiene.
These increasing humanitarian needs in Afghanistan have directly resulted from a dramatic spike in violence across the country, following the withdrawal of most of international forces at the end of 2014. Indeed, 2015 was one of the bloodiest years in Afghanistan, during which some 11,000 innocent Afghans were killed and injured, while the number of conflict-induced internally displaced persons (IDPs) doubled to over 200,000.
This situation was further compounded by a 7.5 magnitude earthquake centered in the northeast of Afghanistan, which has traditionally been a vulnerable region. Meanwhile Afghanistan's rentier economic growth has rapidly slowed down, following a dramatic cut in international military spending, which used to underpin Afghanistan's economic growth before 2014.
Response & Inadequate Resources   
Consequently, however, in the face of increased violence imposed on Afghanistan, the country has had to spend nearly half of its $1.8 billion in revenue on national security. This prevents the Afghan government from spending more on the provision of basic public services, which has unfortunately left more and more poor Afghans vulnerable. And their condition has further deteriorated as some half a million jobs have been lost since the end of the transition process in 2014. Despite continued hard efforts by the Afghan government to jumpstart the economy to create new employment opportunities, it has been hard to replace the lost jobs, nor is the Afghan economy able to create 40,000 new jobs for the Afghan youth entering the job market every month.
And on top of these mounting challenges, Pakistan's military operations in North Waziristan in 2014 forced over 200,000 Pakistanis into southeast Afghanistan, where they will continue to need humanitarian assistance for the foreseeable future.
So, it is in this overall complex humanitarian context that a large number of Afghan youth, who used to be employed, have fled Afghanistan in search of protection and prosperity in Europe. Their fate there has yet to be determined, as most European countries are reluctant to take in more asylum seekers, most of whom have fled generalized violence in situations like that of Afghanistan.
The Way Forward: Warsaw & Brussels
Over the past two years, the National Unity Government of Afghanistan has made every effort to implement reforms and programs that mitigate against the adverse effects of man-made and natural disasters on its already vulnerable population. The Afghan government is in the process of finalizing a new National Development Framework for Afghanistan (NDFA), which takes into full consideration the short, medium, and long-term needs of Afghans.
The NDFA will be presented to the international community at the Brussels Ministerial Conference on Afghanistan in October, while the NATO alliance would meet to discuss Afghanistan's stabilization needs and challenges in the Warsaw Summit in July. These two related events would provide a major opportunity for Afghanistan and international stakeholders to discuss and identify a durable solution to the root cause of the complex humanitarian crisis facing Afghanistan.
Pledges of increased security and development assistance to Afghanistan at the current levels up to 2020 would enable the country to address gradually the humanitarian needs of its people. This aid, however, is not enough unless it is backed by vigorous international diplomacy to be led by the United States and China to secure regional cooperation, particularly that of Pakistan, to end the years of proxy war and violence imposed on Afghanistan, which is responsible for victimizing directly or indirectly most of the country's population.
Moreover, as a minimum punishment, the United Nations Security Council should consider imposing sanctions on any state and its proxy forces that violate the core principles of international humanitarian and human rights laws in Afghanistan. This measure has yet to be taken, even though external aggression, in the form of attacks by the Taliban and its terrorist affiliates, is well-documented by the United Nations Assistance Mission to Afghanistan (UNAMA), international humanitarian organizations, and the intelligence community. Unless such credible steps are taken by the international community, Afghanistan's humanitarian crisis would continue to deteriorate, in spite of the country's significant achievements over the past 15 years.
M. Ashraf Haidari is the Director-General of Policy & Strategy of the Ministry of Foreign Affairs of Afghanistan, and formerly served as the country's Deputy Chief of Mission to India. Prior to this, he was Afghanistan's Deputy Assistant National Security Advisor, as well as Afghan Chargé d'Affaires to the United States. He tweets @MAshrafHaidari